ARE YOU STILL THROWING AWAY OR ARE YOU ALREADY FILLING UP?
As with the manufacturing method of our drops and capsules, we have consciously decided to focus on purity, sustainability and transparency when packaging our products! It was therefore particularly important to us not to choose packaging that was made entirely of plastic.

THE IDEA
Our vision was a sustainable solution: the best for the body and at the same time the best for the environment! Plastic cans are extremely unsuitable for recycling due to the many additives that have to be used during production (especially titanium dioxide in white cans). For many products, a plastic container contains around a month's supply and usually not just one dietary supplement is taken, but several different preparations.
Everyone can easily imagine the resulting mountains of plastic waste. We wanted to avoid this at all costs for our products. Our goal is to do good not only for our bodies, but also for the environment and we therefore consistently rely on fully recyclable glass packaging and refill bags made of kraft paper. Glass is more expensive to produce and, due to its weight, also to ship, but we are still counting on you to support this path.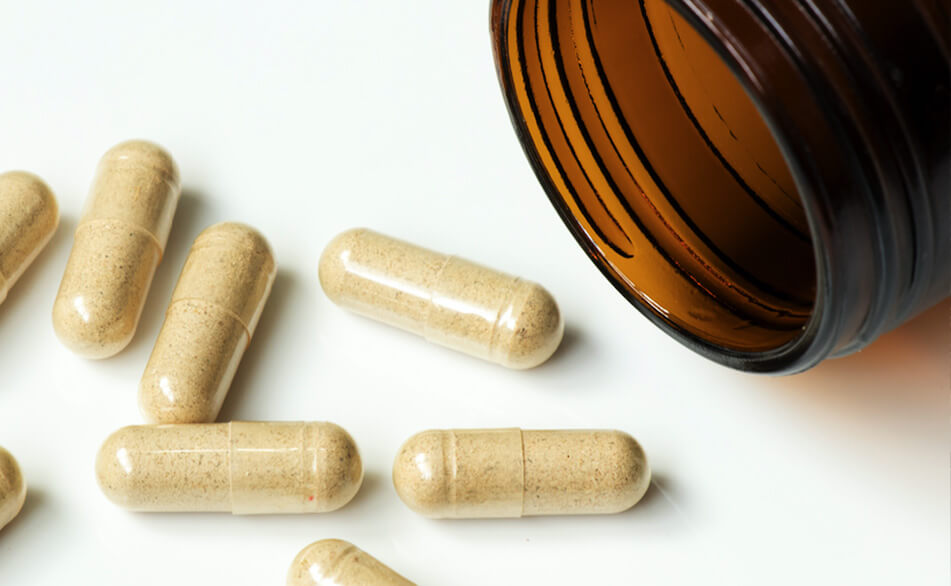 OPTIMAL PROTECTION FOR THE PRODUCT & THE ENVIRONMENT
If you buy a QIDOSHA product, you have probably made a conscious decision to choose a product that was produced without unnecessary additives. Apothecary glass therefore has a number of advantages:
Recycling: Glass itself is very easy to recycle and can often be reused... and again... and again...!
Taste: Glass does not release any substances into the contents (microplastic issue!) and is therefore 100% tasteless.
UV protection: The brown apothecary glass also ideally protects the capsules inside from harmful UV radiation. Special, high-quality ingredients such as vitamin B12 and Q10 are particularly light-sensitive and require brown glass packaging.
THE BEST FOR YOUR BODY
Exhaustion and tiredness

Gastrointestinal

Adaptogenic plants
YOU CAN FIND MORE UPCYCLING IDEAS HERE
Gifts in a jar: Whether it's bath salts, roasted almonds for Christmas, homemade spice mixes, specially created baking mixes, DIY cosmetic pads, seeds for herb or vegetable cards, individual tea blends or something else, with the beautiful glasses and a pretty bow you have many options to create a last minute gift. Take the jars with you to the nearest unpackaged store and pack things that you would prefer to transport protected from light. Salvia from Liebstöckelschuh uses the jars to create her own spice jars with a pharmacy look. With the brown QIDOSHA jars you can ideally store your spices and design them in a clean, uniform look. A bit of pretty calligraphy and then it looks really chic on the spice rack.
DISCOVER MORE UPCYCLING IDEAS